Virtual "Desire to Inspire: The Girl Talk Experience"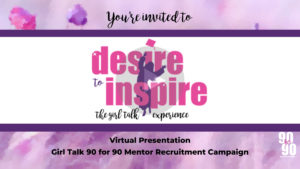 WHEN: April 7th and April 21st from 7:00 PM – 8:00 PM

Register HERE
As part of the Girl Talk 90 for 90 Mentor Recruitment Campaign, our staff are hosting a special online presentation to help answer questions about mentoring and engage potential new Girl Talk mentors.
Join Girl Talk, Inc. staff, Star and Abby, as they walk you behind the scenes of Girl Talk and into the lives of our girls through our signature event – "Desire to Inspire: the Girl Talk Experience." It will challenge your thinking and open your eyes to the possibilities of what "could be." We want you to see our girls how we see them and how/why we work so hard to make sure that their choices and actions produce better outcomes for their futures.
Desire to Inspire: The Girl Talk Experience" is a free, one hour event, and for the first time ever – we're hosting the party VIRTUALLY! Register today to reserve your spot in this interactive presentation!
For more information, email Abby Gibbons at Abby@GirlTalkInc.com.
Virtual Girl Talk Life Prep Academy Recruitment Event

WHEN: April 14th and April 16th from 6:30 PM – 7:30 PM
April 14th Registration – Click HERE
April 16th Registration – Click HERE
Will you be a junior or senior in high school next year (2020/2021)? Join us for an interactive virtual event to learn more about an exciting opportunity for Knox County girls who are interested in seriously planning for the future.
The Girl Talk Life Prep Academy gives girls the opportunity to attend college tours across the country, see and learn about different career opportunities from experienced professionals, and every graduate from the Academy receives a $500 scholarship!
Reserve your spot TODAY to participate in this exciting recruitment event for the Girl Talk Life Prep Academy! Grab a friend, and log in to our Google Hangouts session as we share about this elite opportunity!
To access the virtual event, you MUST register on Eventbrite. For more information, email Star Starks at Star@GirlTalkInc.com.