The 2020 Girl Talk Fashion Show Gala GOES VIRTUAL!
Join us on Saturday, August 15th for a night to remember! For the first time ever, you can experience our signature event from anywhere you choose! This year, the 9th Annual Girl Talk Fashion Show Gala will be hosted virtually and streamed LIVE!
Professional women and our Girl Talk girls will still work the runway showing poise, confidence, and elegance all while having fun and engaging with you from wherever you choose to view!
Scenes from our show will feature looks and music that showcase our 2020 Girl Talk Graduates, our mission, and our Role Models! The night will also include a live band, silent auction, and award presentations throughout the scenes.
In addition to individual tickets, we are offering our constituents the opportunity to sponsor our event as table hosts. To learn more and to reserve your access to this amazing night with the Girl Talk Family, click the link below!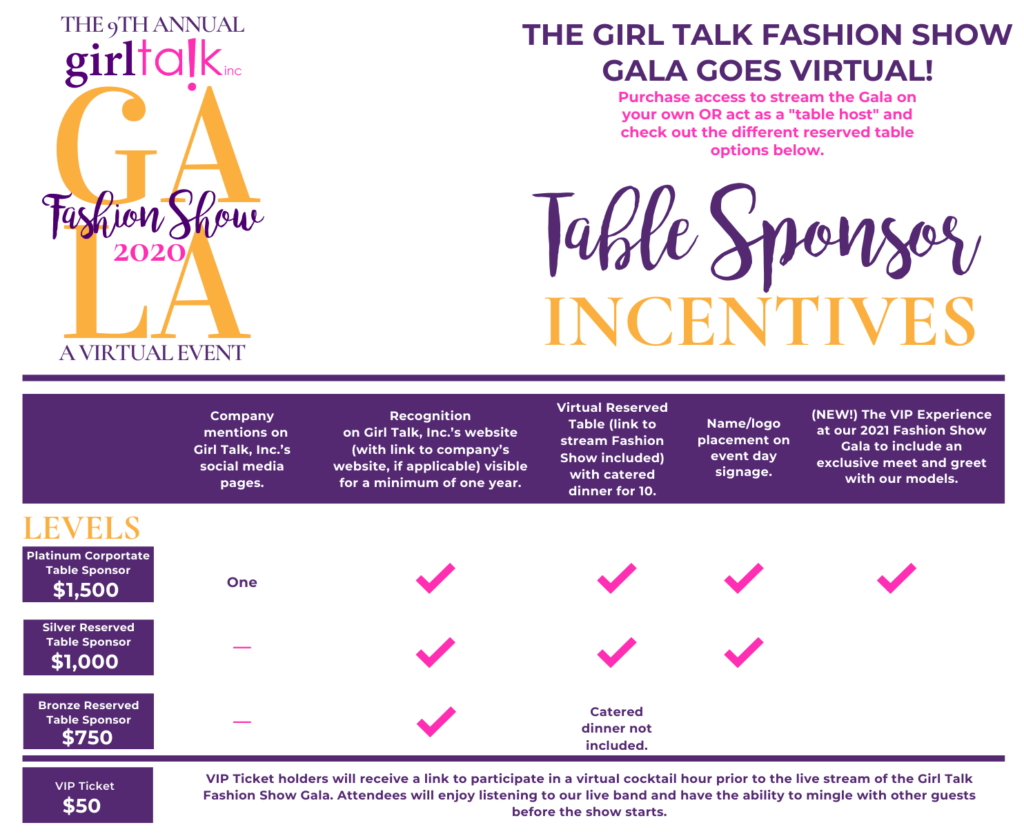 Call for Nominations!
2020 Madeline Rogero She-Pro Award
At Girl Talk, Inc., we believe in honoring those who have made an impact in the community; specifically, those who are an example to our girls and young women. Girl Talk, Inc. is seeking nominations for the 2020 Madeline Rogero She-Pro Award. "She-Pro" is a Girl Talk term that describes professional (Pro)women (She)who inspire and empower our girls by sharing their personal and professional career challenges and successes, and impart career development strategies in hopes of exposing and providing our girls with the tools to themselves become successful women. The Madeline Rogero She-Pro Award honors women who are influential in the lives of women and girls as well as well as women who live their values, invest in our community and is a strong leader in our community.
Do you know a woman leader who has been a tremendous asset and invaluable agent of change in our community? Submit your nomination today!
Special Thanks to Our 2020 Sponsors!
Platinum Corporate Table Sponsors
Brooke Greene
T. Wayne Hood
Jackie Clay
Jasmine Hardin
Ba'Carri Johnson
Cammy Kromer
Robert Loggins
LaKenya Middlebrook
Craig Pickett, Jr. – Gamma Beta Phi
Jenny Swanson