Be a Girl Talk 1:1 Mentor!
Do you have a heart to see young girls become confident in who they are? Become a Girl Talk 1:1 Mentor!
Mentoring is a critical component of Girl Talk, Inc., so it is important that we select excellent mentors—individuals with leadership and mentoring experience, who are serious and passionate about Girl Talk's mission. Our mentors are the arms and feet of Girl Talk, Inc. and have the most important job of all.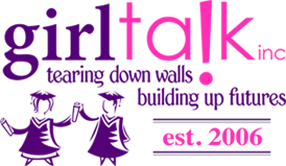 1:1 Mentor Eligibility Requirements:
Preferred mentor age 21-35

Possess a clean criminal history

Have a valid driver's license, reliable transportation, proof of auto insurance, and a good driving record

Have a heart for teen girls and raising their self-esteem.

Is interested in the goals, objectives and programs of Girl Talk Inc.

Have personal qualities of integrity, transparency, credibility, dedication, commitment, loyalty, and a passion for improving the lives of Girl Talk's participants.

We expect our mentors to make our girls a #1 Priority.
Girl Talk 1:1 Mentor Responsibilities and Expectations:
A Girl Talk 1:1 Mentor is responsible for building a relationship with a Girl Talk girl and implementing the standards of Girl Talk through one to one mentoring. A 1:1 Mentor is responsible for spending face time with her girl(s) once a month, and communicating with her at minimum, once a week. We also ask our mentors to help chaperone activities as their schedules permit.
Time Commitment
Face time with girl(s) once a month
Communication with girl(s) weekly
Chaperone activities
Activities Include:
The Girl Talk Sleepovers
College Tours
Career Tours
The Ultimate Girl Talk Experience
Application, Selection and Training Process:
All mentors will go through the following application, selection and training process. Interested persons are given a copy of these policies and procedures to review. If they feel they meet these requirements and would like to be considered for a role as a Girl Talk Mentor, they must:
Complete the volunteer application, including references and permission for a criminal background check.
The applicant will then be invited for an interview with Girl Talk Staff. This is a time for Girl Talk to find out more about the candidate and the candidate to find out more about Girl Talk.
Following a successful interview, Girl Talk will then run the criminal background check and check the references on the application.
Following the background check, successful candidates will be offered a spot in an upcoming Mentor Training.
The safety and well being of our Girl Talk participants is our number one priority. If at any time during the process, it becomes apparent that the applicant is not a good fit for Girl Talk, or does not meet our eligibility requirements, they will be notified via US mail.